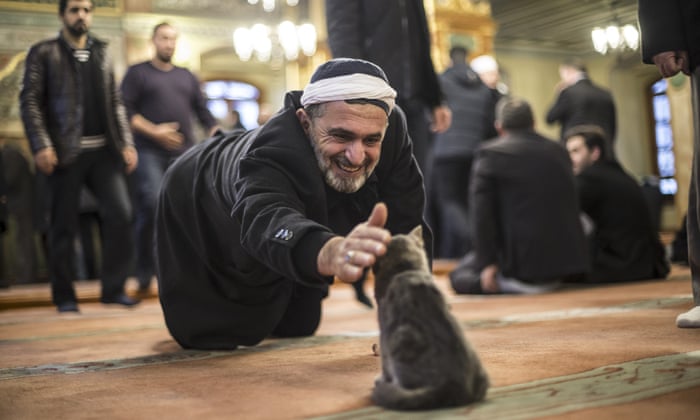 Istanbul mosque. Photo by Anadolu Agency/Getty Images
Some authors of cat/human history claim that
patriarchal rule results in the hatred of both women and cats

. According to this view, men's desire for women makes them feel weak, and they externalize their weakness by blaming it on women. These same men claim that
God blessed them with strength, and women with weakness, and that men should therefore rule over women

.
But why hate cats? Since ancient times, feline beauty, grace, sensuality, and mystery have been compared to the same qualities in women. Moreover, just as women's menstrual cycle reflects the lunar cycle, cats' eyes reflect moonlight. Worse yet, neither the world's strongest man nor its mightiest army can force obedience from its weakest cat, and what patriarchs can't control, they must destroy.
This view ignores evidence to the contrary. For example, ancient Judaism ignored cats, and for its first millennium, Christianity held cats in high esteem. Most notably, Mohamed loved cats, the result being that Islam is strongly ailurophilic. Some evidence:
(1) Mohamed told of a woman being consigned to hell because she tied her cat to a post and left it to starve. (2) When the call to prayer came while Mohamed's favorite cat, Muezza, was asleep on his sleeve, he severed the sleeve rather than disturb her. (3) When a tabby saved Mohamed from a cobra, Mohamed blessed all tabbies by leaving
the mark of his fingers on their foreheads; and he blessed all cats by petting the back of his rescuer, thereby insuring that falling cats

land on their feet. (4)
Mohamed's favorite wife

, Aisha, taught that the cat is the only animal that can drink from ritualistic water without rendering it impure. (5) While the Catholic Church was killing cats in the 1200s,
a Cairo sultan started the world's first sanctuary for homeless cats, and it still exists. (6)

Cats are free to come and go from mosques.
Only the French have expressed cat-love as eloquently as Muslims:
When sorrows press my heart, I say: Maybe they'll disappear one day, when books will be my friends at night, my darling then the candlelight, my sweetest friend, a kitten white.
Ramiri, 13th century theologian
She has so bewitched me with her darkness and light that she appears to be made of ebony and ivory.
Ibn Tabataba, 10th century spokesman for Mohamed's descendants
When a cat dies, the dervishes bury her in a grave that is in line with Mecca. They bury her and say, "Go on my friend, may God give you peace and peace for us." On that grave, they put a stone and cry hot tears.
Custom of Moroccan dervishes
Rosebuds surrounded by thorns.
Mother cat carrying babies in mouth.
Rumi 13th century scholar, theologian poet, and mystic
My sorrows will be over when I find companionship in a cat.
Ahmad Ibn Faris, ninth century scholar
Those who love cats have a strong faith.
The cat sleeps on the sheik's lap, and on the prayer carpet is she at home.
Attar, 13th century, mystic
The grammarian, Ibn Babshad, was eating with friends atop a Cairo mosque. When a cat appeared, they gave her some morsels. She took them and ran away only to come back again and again. The scholars followed her to a roof on which a blind cat was sitting. The cat placed the morsels in front of her. Babshad was so moved by God's caring for the blind creature that he gave up his belongings and lived in poverty, completely trusting in God until he died in 1067.
Ancient tradition recorded by Dimiri in the 14th century
Religious cynic that I am, I can't help but reflect that had Mohamed despised cats as
he did dogs
, their fate might have been just as tragic.
So it is with
all religions in which the founder's virtues and vices are enshrined as the will of God.
On the bright side, because Mohamed liked cats, they have been far better treated in Islamic nations than Christian ones. To see this for yourself, google cats in mosques, and click on images.